If you watched TV as a kid you probably came across ( or loved) a popular anime called Sailor Moon, a magical girl anime. The resurgence of this show resulted in the rise of sailor uniforms and schoolgirl fashion, similar to those worn in the anime. In this blog, I'm going to dive into the influences from the cartoon and how it has impacted some of today's biggest kawaii fashion trends!
What is a sailor uniform?
A sailor uniform is a classic staple in any kawaii/anime lover's wardrobe! The outfit usually consists of a pleated skirt and a matching top (long or short-sleeved) with a ribbon and collar. A great example of a media character who wears this set is 'Ayano Aishi' from the hit game Yandere Simulator which became super popular in 2014 all the way until now! Cosplayers love to recreate her timeless look with the white and blue sailor set and it has recently been showing up all over the platform Tik Tok.
Japanese Uniforms:
Japanese school uniforms have been around for more than 150 years! The original purpose of these outfits was to differentiate students from different schools, however recently it has become a big part of kawaii fashion. The sailor version of the school uniform was introduced in 1920. It is also common to have different uniforms for the changing seasons, which usually involves adding a blazer or jacket in the colder months and wearing shorts and skirts in the warmer months, however, they mostly keep the blouses and collars.
Further into this blog, I will be letting you know how to pick a sailor uniform fit for your aesthetic as well as exploring the different ways it is styled in anime and games!
Sailor Uniform in Sailor Moon:
The sailor uniform is seen a lot in the popular anime 'Sailor Moon' and is worn often by the show's main characters. It could be argued that this is where the hype around the uniform comes from! Each of the characters had a different color of uniform which reflected their personalities.
Many cosplayers have recreated the classic Sailor Moon look by wearing the red and blue set worn by the main character. The uniform reflects a youthful and fun personality and is often worn in Japanese manga and anime. This type of clothing is often referred to as a Seifuku (Japanese school uniform ) and is commonly also worn in real-life schooling or activities by Japanese students.
How does the Sailor Uniform relate to Kawaii fashion?
It seems these days a sailor uniform and a kawaii wardrobe go hand in hand. When browsing through Cosplayer's Instagrams you will no doubt find a few photos with the uniform being worn. The popularisation of the uniform definitely comes from its anime roots but also because of its adorableness! The classic pastel pink version of this outfit is super popular in the Kawaii community because of its innocent and soft vibe; however, it can be sexy too! A great example of a more mature yet still pastel sailor uniform is this set!

The pastel pink colors bring the Kawaii element of the outfit and the sheer accents give the adult flare some may be looking for. The duality of the outfit means it can be styled in a sexy or innocent way, depending on what the buyer is looking for, however it seems that it is more popularly worn as a simple Japanese school outfit.
What style you should try!
There is such a wide range of colors and styles it can be hard to pick what would be best for you, but I can give some helpful advice on what would look great on you depending on your personal aesthetic and style.

If you are looking for a more authentic and classic Japanese-style uniform, a blue and red set would look great! This is one of the more common styles as it is often worn by real Japanese students and looks very sophisticated. This color is also worn by the main character in Sailor Moon!

Perhaps you want a more soft, aesthetic uniform; in this case, the popular pastel pink matching set would complement your style. This variation is often worn by Kawaii bloggers online and has become very common! It gives off more of an innocent look and the fit is usually very similar to that of a real Japanese schoolgirl outfit.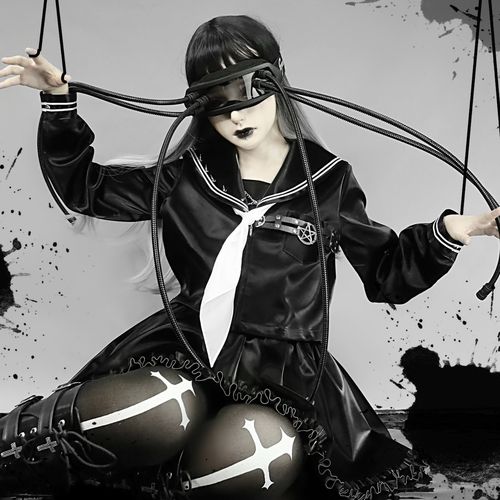 Maybe pastel and soft colors aren't for you, but luckily there are also many black and dark-colored sets for those who want to appear more grunge or gothic. Mix and matching the sets would also look great here, for example, a black skirt with a dark red blouse would give a very mysterious look.
Conclusion:
To conclude, the Sailor Uniform continues to be popular amongst young girls and lovers of anime and kawaii fashion. Some people love the uniform because it is worn by their favorite anime or game characters and others may just be interested in Japanese culture and schooling!
The popularisation of the uniform in other parts of the world comes mostly from the media and anime/manga fan bases as well as cosplay posted on social media. The outfit became part of the Kawaii fashion scene when it began to incorporate pastel and soft styles marketed towards this demographic. Overall the outfit continues to be loved by many for its versatility and stylish look!