Menhera is a Japanese slang word that means mental health-er. The fashion style is related to the term. It is part of a counterculture movement to end the stigma against mental illness in Japan.
Menhera fashion is a sick-cute style that is full of sweet pastels and gloomy elements. The style includes lots of hospital and sick themes. Menhera is also sometimes referred to as a substyle of Yami kawaii. It was made popular by the artist Bisuko Ezaki with his character Menhera-Chan.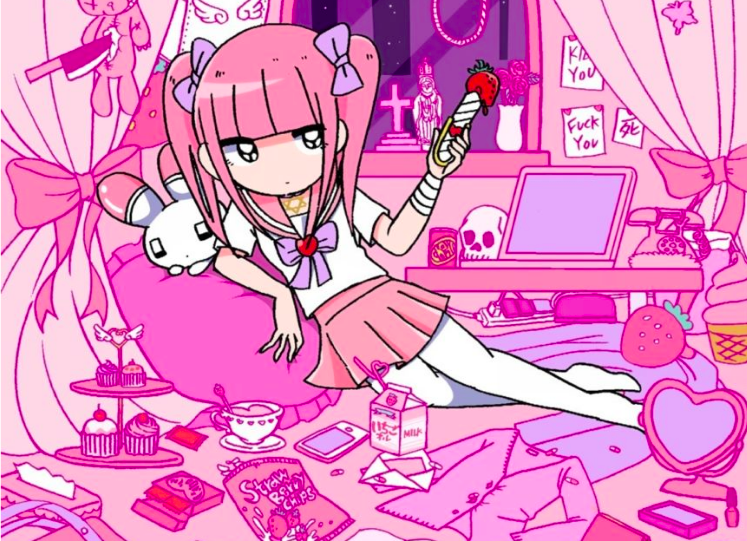 Menhera fashion is a style unlike any other. There are some of the elements you might expect from a Japanese style, but because of the darker themes and the mental illness aspect, it is extraordinarily unique. 
Menhera is meant to confront those around you with the reality that some people are struggling with mental illness. Some find the fashion uncomfortable to look at because it deals with such heavy topics. The stigma surrounding mental health creates a sense of intrigue when it comes to the style. 
Many who don't wear Menhera fashion wonder why would someone want to wear it? Some people find it very disturbing to combine the cute style with such harsh themes. Menhera is a way for people to cope. I personally like to think of it as wearing your heart on your sleeve. If you wear Menhera some of your darkest thoughts can be on display to those around you, but it can be empowering to see others wearing the fashion because they struggle with the same types of issues.
How to identify menhera
More casual versions of Menhera are subtle and not as easy to identify, sometimes Menhera can be very similar to other kawaii fashion styles with dark undertones. It is also very similar to the all-cute style Yume kawaii. Menhera is distinct because of the inclusion of elements of illness. Menhera iconography contains things such as bandages, eye patches, syringes, razor blades, pills, nooses, and other things relating to hospitals and mental illness themes.
(Find similar chockers and collars)
Menhera fashion is meant to be comfortable to the wearer. The fashion is friendly to those with chronic illness and often includes oversized tops and comfortable bottoms like leggings, skirts, or loose-fitting shorts. High-heeled shoes are not worn as a rule in menhera to go with the comfort aspect of the fashion. 
The style contains lots of pastel colors, but there is not a color palette that you must stick to with menhera. Along with pastel colors, black and white are common, also small amounts of red. The colors used in a coordinate are not nearly as important as the nod to mental health and the comfort of the wearer. 
History of Menhera
Menhera was first created and discussed on a 2-chan board. The style was discussed and vent art was posted to the board. The fashion style originated in the style of art and then afterward became a style to wear. Menhera fashion today does often include vent art in the coordinates on a tee-shirt or jumper. As mentioned earlier Bisuko Ezaki's character Menhera-Chan also really cemented the popularity of the style. Menhera-Chan became so popular that she introduced the style to the western world.
(Find similar T-shirts)
Why is it called menhera?
Again, menhera is a Japanese slang term that means mental health-er, it is born of a community of people who have mental health issues and need a safe outlet to express those feelings. Menhera does not come from the character, Menhera-Chan is named after the subculture. Menhera is also not referred to as Menhera Kei like other kawaii fashions. The addition of Kei at the end creates an othering that doesn't help with the already highly stigmatized community. 
How can you dress menhera?
The part that I personally adore about menhera is the lack of rigid rules. Sure there are motifs to stick with when creating a menhera style coordinate, but there is a lot more freedom than styles such as lolita or fairy Kei. Mentioned several times already, the aspect of mental health is the most important. Without the elements of mental health in a coordinate, it may just end up as Yami kawaii, a kawaii fashion style full of cute meshed with darker themes. With Menhera there is a focus on mental health.
 (Find similar Skirts)
Menhera in essence is about your comfort and starting a conversation about mental health challenges. Pieces relating to mental health struggles or medical motifs can transform an outfit from Yume or Yami kawaii to Menhera. Some common ways to incorporate Menhera into coordinate that I have seen include;
Necklace with a Menhera Motif
For example, a syringe with glitter inside is a common accessory. Pastel-colored razorblade is another thing I have seen on Menhera necklaces. Pills or pill bottles are also often found on Menhera accessories, often made of resin or clay.
Pins Galore
Pins and badges with menhera themed art on them is very common and easy to incorporate into a coordinate. Pins used in Menhera may include depictions of pills, adhesive bandages, and hospital crosses. Another thing that is common in Menhera is provocative phrases relating to mental health. Some examples include "I wanna die" or "kill you". 
Vent Art
Arguable vent art is one of the most important parts of fashion considering that the style of fashion originated from the menhera vent art community. Vent art can be incorporated into menhera through pins, as a graphic on a shirt, or even as a print on leggings. The vent art of Menhera does not commonly include gore or themes that may be triggering as Menhera was created as a way to safely cope with mental health issues. 
 (Find similar Harness and garter)
Menhera is…
A unique way to express yourself! A fashion subculture built on creating a safe space for people struggling with mental health issues to express themselves. This fashion is about striking up a dialogue about mental health and working towards ending stigma towards mentally ill people. It is about expressing the darker thoughts you may have in a healthy way.