The sudden popularization of anime and Japanese culture rising in western media brought broader audience ideas of lolita, kawaii, and childlike wear. Lolita fashion is specifically fashion that derives from childlikeness.
Merriam-Webster defines lolita as precociously seductive. Kawaii is something in the same vein, but inherently Japanese, as it is the Japanese word for cute.
These two words are their fashion subculture but can be amalgamated into one entire group due to their similarities and lack of differences. There was a foundation of age regression and DDLG or Daddy Dom Little Girl in western society. Still, Japanese culture created more expressions with more shows and manga to cosplay that matched the kawaii aesthetic.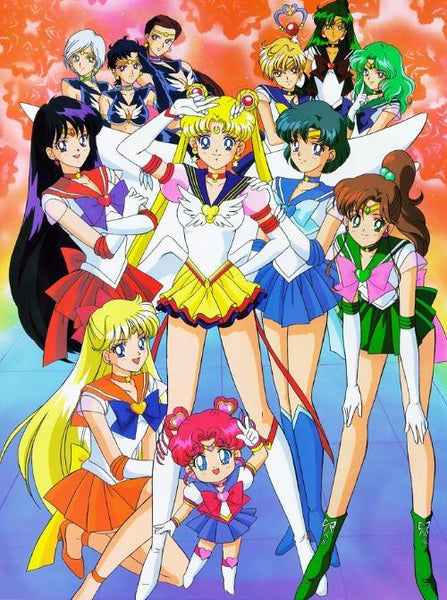 Animes like Sailor Moon significantly exacerbated the change. They intensified the culture, with the characters perfectly matching the childlike essence and kawaii clothes that lolita culture wanted to express. The issue is moral quandaries and the ethics of wearing specifically Sailor Moon lingerie and attire in general.
Age Regression and Childlikeness
First, we have to understand the topic and culture we are delving into. The definition of Agere or Age Regression is in some ways a therapeutic way of accessing childhood memories and behaviors or replicating them in some or all manners.
Age regression can specifically be found in therapy or sexual and romantic settings as a fetish partaking in BDSM (bondage, discipline, sadism, masochism) and DDLG. We will specifically be discussing the former.
Childlikeness, on the other hand, is the way something is similar to a child's behaviors or feelings. All acts of age regression are childlike as you are regressing into a childhood state, but childlikeness does not necessarily mean you are an age regressor.
Participants of age regression can revert from ages as old as 15-16 to as young as toddlers and is indeed dictated by the person's preference. There is a specific boundary with age regression and fetish, although, as crossing, this would veer onto the pedophilia territory.
Pedophilia and age regression have scarily faded lines from an outward point of view. Still, you can determine the difference simply by asking if you are sexualizing the act of being a child or returning to a state of comfortability by being your childlike self. There is also the decision of what you consider and label yourself an age regressor or immature, as, regarding the overlap, there is quite a lot of subjectivity.
Sailor Moon Apparel
Now, whether Sailor Moon apparel is just a part of lolita and Japanese fashion or the sexualization of childlike behavior. It is simply just a kawaii apparel style without any inherent remnants of pedophilia or sexualization of children.
Let's look at some examples of Sailor Moon lingerie and apparel. We can see that there is no sexualization of the child aspects of the character but instead just a cutely-themed lingerie set based on the original anime and manga.
In this specific piece, the character is barely referenced, nor her age is not even prevalent as the only thing representative of them is their colors and the navy apparel. The aspects of being a child cannot even be closely examined in these pieces. Same with these, albeit lesser quality wish sets
The sailor's outfits are just a theming around the lingerie, and there is no actual sexualization of the teenage characters.
The Sailor School themes even expand beyond lingerie as there is this cute graphic tee. Both sets of clothing do not show the actual characters in any sexual or explicit manner and instead are simply just to enhance the wearer's childlikeness, like with the shirt, or give them a sexy themed lingerie set.
All representation of the characters in these clothes would remain the same even if the characters were aged up. Any childlikeness found in these clothes is due to the demographic of the original content, not the character's shown.
On the other hand, specific cosplays of the character where you can see its an exact representation of her and with the context that it is specifically explicit cosplay of the Sailor School characters. It is genuinely pedophilic to represent high school characters specifically as their true high school selves and then sexualize them.
You are not being playfully seductive nor correctly representing childlikeness, but instead, just sexualizing, albeit fictional, minors. There is a line to draw, and that is where I draw mine. You cannot, and should not, specifically sexualize the character of Sailor Moon or Sailor Jupiter or the fact that they are school girls outside of just pulling their costumes onto lingerie.
Conclusion
In today's society, taboo attire like lolita fashion and taboo topics like DDLG bring in pedophilia as a mainstream question. You must draw the lines consistently: the sexualization of children, the expression of childlikeness, or someone experiencing age regression.
Japanese cultures and fashion subcultures especially emphasize these issues and boundaries, specifically with their anime and manga. Anime cosplays like Sailor Moon are brought into the limelight with their representation of teenage girls, but yet they are primarily innocent or just playful with no inherent malice.
Using the themes of prettily colored navy lingerie or just a cute graphic tee does not sexualize children or teenagers or sexualize the actual characters. But, I believe explicitly cosplaying these characters without another context other than trying to be them and sexually showing them takes a step too far.
It is straightforward to realize whether you are playfully wearing cute colorful lingerie for your partner or sexualizing a teenage girl and being her in sexual settings. In that way, it is also simple to realize whether you are acting out pedophilic fantasies.