Who are these Kawaii video game characters? What do I need to know about them? Can you cosplay as them? Yes, you can! These characters are from a popular game named " League Of Legends" also known as League. Here are a few things you need to know about these Kawaii characters in comfy oversized pajamas.
What is League and Of Legends?
League of Legends, commonly known as Legends, is a multiplayer online battle arena video game. The objective of this game, players work with their team to break the enemy Nexus before the enemy team breaks theirs. That's where these cute video game characters are from. You can play this game on every platform, be it PC or your smartphone. You can enjoy this video game anywhere and at any time.
List of the most popular Guardians/Champions:


Pajama Guardian Miss Fortune-



Who is the Pajama Guardian?
They are one of the many champions/guardians from the video game "League Of Legends". In 2018, Star Guardian Lux, Ezreal, Miss Fortune, Soraka, and Lulu were upgraded with new special onesie variant skins. Which was something new and different that they added to the game.
It allows the skins team further development in stories and style beyond the original design concept. But the whole 'animal onesie' idea is super Kawaii and comfort wear. Especially if you already enjoy Harajuku Kawaii Fashion, then this is the perfect first cosplay for you. It would be cohesive with your aesthetic!
Where can you buy costumes and supplies?
I know you can't resist the urge to cosplay as these characters in these cute onesies. First, you'll have to find a store that sells both wigs and costumes. Some people have their costumes made on commission. But here are a few costume stores that you could look at.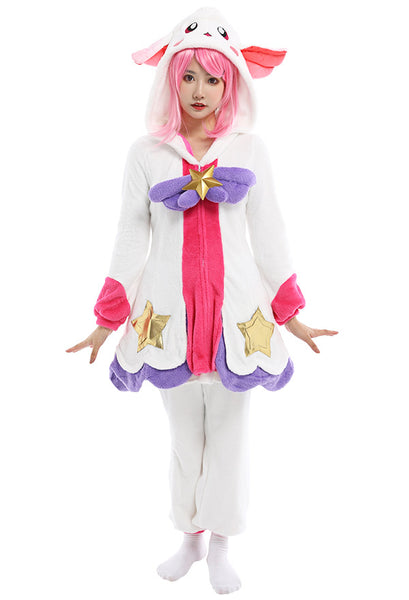 Cosplay is an expensive hobby because you have to buy the costume, wig and so much more. But if you're resourceful and creative, you could make your costumes and props. You could also do something called 'closet cosplay' in which you alter your cosplay to look like the character's outfit. Or just have the costume commissioned by a local cosplayer. It will be worth every penny! Trust me.
What is Cosplay?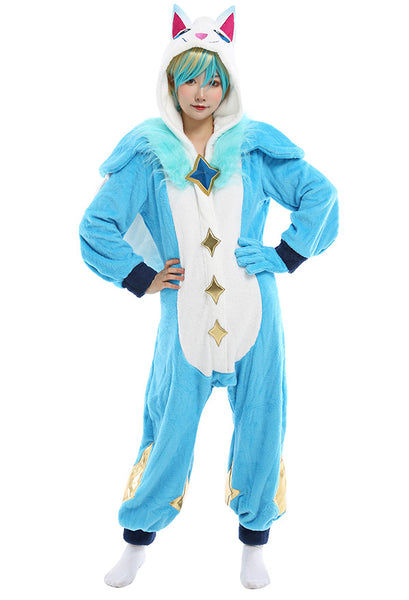 Cosplay is a fun hobby in which you can dress up as a character or concept(original character). People who do this hobby full time are known as 'cosplayers'. Once you start! You just can't stop. Some cosplayers take it to the next level. In which they would copy the mannerisms and gestures as the character would do in the anime, movie, or video game, etc.
I like to act as the character when I get into cosplay, especially at Comic Book conventions. It truly brings the character to life! Usually, when I decide on a character to cosplay as, the first thing I would check is if they have a personality that I can imitate. Plus they're appearance is important, if I like the way a character looks then I will cosplay as them.
Who can do it?
Anyone can cosplay! It does matter what age, weight, or height you are. Cosplay is meant for everyone to enjoy. Cosplay is open to people of all genders, orientations, and ethnicity. Plus there is the option to do cross-play. In which you can dress up as a character of the opposite gender. Which is another thing I like to do as a cosplayer.
Most of my favorite anime characters are male. I love cosplaying as my favorite anime characters. There are no special rules!
Here are a few tips to keep in mind as a beginner cosplayer :
Choose your character
Where to get your costume
Get ready to have fun!
Why do people cosplay?
They do it for fun! Just like any sport or hobby or any other form of entertainment. Cosplay initially started in Japan. Soon thereafter everyone joined in on this fun hobby. That they would wear their costumes to comic book conventions or comic book events and sometimes enter their costumes into competitions.
In the cosplay world, everyone has their own thoughts towards cosplay. The degree of devotion is quite different. Some people would just do cosplay as a casual hobby. Some would take their devotion to the next level by making their own costumes and just cosplay on a regular basis. There are some people out there that would turn this hobby into a career. Which is totally possible.
Is cosplay trendy in 2021?
Cosplay has always been a popular hobby amongst geeks. It was just another way for us to enjoy movies, anime, and video games. But, today the cosplay community has become bigger than ever. Not only are more people getting into cosplay, but it has also slowly become a way to earn money. To turn your hobby into a full-time career is everyone's dream. I know it's one of my dreams.
There are a lot of cosplayers out there who make money through sponsorships and just by the content that they produce. So they get paid to attend events, judge competitions, and even promote brands. For example my favorite cosplayer, Prince De Guzman. He is a full-time content creator which specializes in horror character cosplays and so much more.
Prince De Guzman as Pinhead from Hellraiser
Yes, there might be a lot of people who take it seriously, but your work can be whatever you want it to be. That's the great thing about cosplay, you have the chance to show off your favorite character with pride.
Most importantly cosplay is a fun hobby for everyone to enjoy. It will always be a fun activity for all age groups to join in. Everyone's doing it! Cosplay is a fun hobby that thousands of people participate in all year round. So don't miss out? Go buy your pajama Guardian cosplay now!
Written by Jessica Norman
Instagram: rainb0w.sweety
References:
https://www.vox.com/2014/7/23/5916509/cosplay-explained
https://www.facebook.com/PrinceDeGuzmanTransformations
https://www.who.com.au/what-is-cosplay
https://m.miccostumes.com/league-of-legends-pajama-guardian-lux-cosplay-costume-95029p.html
https://www.riftherald.com/2018/11/6/18068896/star-guardian-lux-ezreal-miss-fortune-soraka-lulu-onesie-skins
https://m.miccostumes.com/advanced_search_result.php?refine_keyword=Pajama+guardian+&order_by=1&page=0&refine_category=0&refine_manufacturer=0&refine_price=0