Harajuku style has a range of Japanese sub-style, for example, Decora, Fairy Kei, Visual Kei, Lolita, Gyaru, Cosplay, and Gothic clothing. Harajuku is a station situated between Shinjuku and Shibuya(In Tokyo, Japan). This is the birthplace of kawaii(cute) culture. Alternative fashion consists of various styles, with some rising from Japan. Harajuku style has been around since the first 1980s, and it became known within the West in the early 2000s.
It all started with a group of young people who wanted to spread the message that you can wear whatever you want and screw mainstream fashion. Harajuku Fashion is a movement against strict social rules and the pressure to fit in. This subculture style brings about a sense of belonging; it truly allows you to be yourself.
Why is Harajuku Station so popular?
Harajuku Fashion is popular for many reasons. The most iconic Main Street of Harajuku Station would be Takeshita Street. This pedestrian paradise is where you would find everything in Kawaii culture. This street is lined with inexpensive and quirky stores that sell clothing and all the accessories you need. So if you'd like to experience the Kawaii lifestyle fully, you could buy a whole outfit for not a lot of money.
We all feel quite hungry after a long day of shopping. Luckily enough, Harajuku has a lot of street foods and really cute cafes. The most popular street food in Harajuku would be sweet crepes or chocolate Banana on a stick. But one of my favorites would be the rainbow cotton candy. The candy stores in Harajuku are really Kawaii. But whatever you end up buying, Harajuku's stylish street food will always look great to eat and share on social media. Don't forget to create that special moment.
Dressing in Harajuku Style
Harajuku style has a range of Japanese sub-style, for example, Decora, Fairy Kei, visual Kei, Lolita, and gothic clothing. So this style has a bright side and darker side of fashion. So don't worry, there's something for everyone.
Decora Kei is one of the most popular styles in Harajuku Fashion. This style consists of bright colors and many accessories. So you can wear as many hair clips, jewelry, and colors as you want. Anything goes! But to highlight some of the popular styles, read below.
Fairy Kei: is based around muted colors and 80s children's pop culture. Such as My Little Pony, Care Bears, and 80s Barbie, to name a few. Pastel colors like pink, blue, lavender, purple, yellow, and light green are used the most.
Visual Kei: is loosely based around goth and punk style. It has a strong influence on Japanese rock culture. So cool band T-shirt's or any darker color clothing will work for this style. Don't forget to add a pair of platform shoes or boots to this style!
Lolita Fashion: is heavily inspired by Victorian history. There are three different styles for the style, which are sweet, classic, and basic. So this style has both a darker and brighter side to it.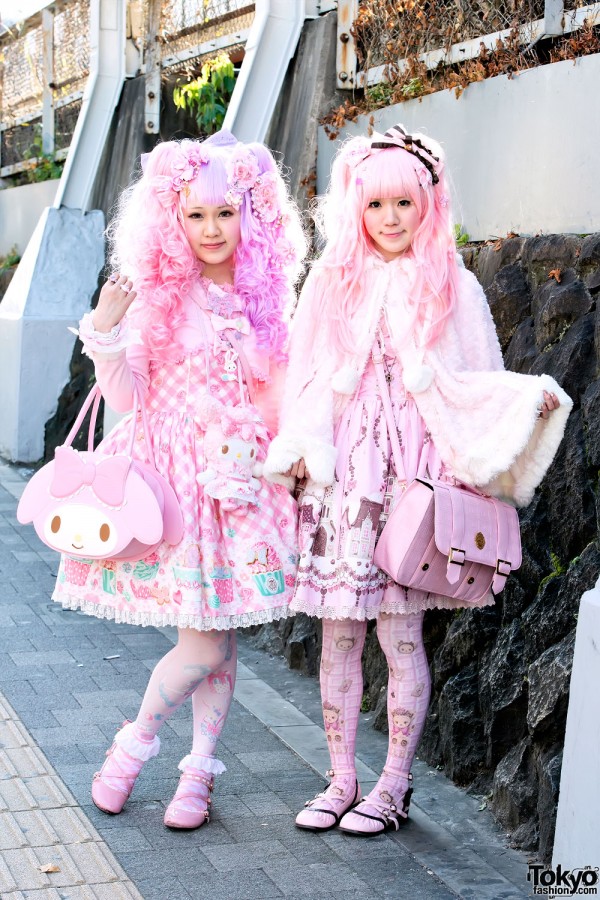 Feel free to dress however you want. In Harajuku Style, layering up lots of clothing and even accessories is truly encouraged. This is the way to become fully immersed in this style of fashion. Creativity is key, don't be shy to go all out on your outfit, whether it's Kawaii or the darker side of Harajuku style.
Who can wear it?
There is no age limit; anybody can dress in Harajuku Style. This style of fashion allows you to be extra creative with your outfit. It truly allows you to express your inner kid and go crazy with your style. In Harajuku, it's perfectly okay to dress similar to a five-year-old and have the maximum amount of fun dressing up. You'll be stepping out of your comfort zone for those who are starting in J-Fashion.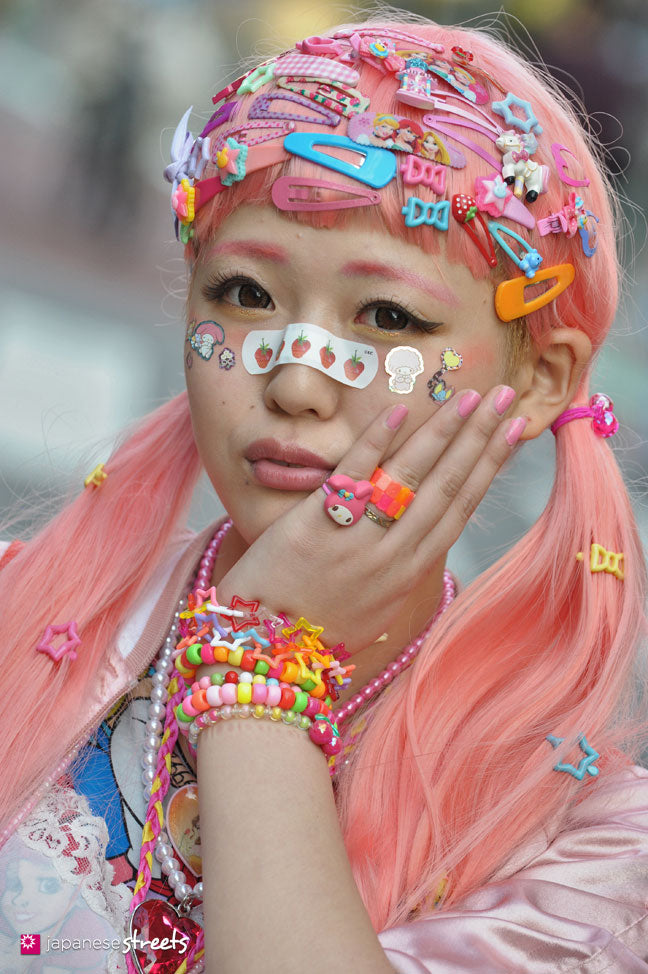 Anything goes when it involves the kind of accessories that you use. The most popular choices are vintage toys or those kid plastic jewelry, and just anything colorful will work. They do not have to match; that's the best part. As for your bag, you can't go wrong with a cute backpack. My best choice for you would be a small fluffy backpack or those teddy bear backpacks.
As for your hair, the most popular hairstyle would be bang with twin ponytails. Some people dye their hair a funky color. But if you don't want to dye your hair, another cool choice is to wear a kawaii wig. Don't forget to add as many hair clips as possible. Colored eye contact lenses have become a trend in Harajuku fashion. From natural eye color to pink or blue or purple eye contact lens. Your eyes become another accessory to your outfit.
Are there any rules or guidelines in Harajuku Style?
Harajuku style has no guidelines. You can do whatever you want with your outfit or hair. This goes for all genders; there are a lot of men who enjoy it too. Even though a lot of styles may seem childlike. There is no age limit. Most of the people who enjoy this fashion are in their twenties or even older.
You do not have to join a certain style or follow any fashion, and you can mix them all if you want. Plus, you don't have to worry if your clothes match or not - allow your creativity to flow. You can change your style every day - Harajuku style is all about self-expression.
Harajuku is the land of free-spirited fashion. Don't stop yourself from joining in the fun and colorful lifestyle. I believe fashion is subjective and that it depends on that person's interests. Fashion is truly the coolest way to express yourself, so don't let what other people say bother you. So always carry a smile and have fun with it! There's no right or wrong in your style. You do not have to follow mainstream fashion.
References :
https://en.m.wikipedia.org/wiki/Japanese_street_fashion
https://yumetwins.com/blog/ultimate-guide-to-harajuku-fashion
https://tokyonightowl.com/harajuku-fashion-6-unique-styles-you-must-see/
https://www.bbc.com/culture/article/20170920-the-outrageous-street-style-tribes-of-harajuku
https://www.gotokyo.org/en/destinations/western-tokyo/harajuku/index.html
Written by Jessica Norman
Instagram: rainb0w.sweety