So if you're new to Kawaii fashion or someone who has been following this style for quite some time now. Well, then this is the blog for you!
I'm sure you've seen many people wearing cute wigs and makeup, then wondered if you could look as cute as them.
Don't worry, anyone can pull it off. It doesn't matter what your age, weight, or ethnicity are. Anyone can join this creative and fun hobby. Now that you have a cute outfit on, it's time to get your makeup done. You're probably thinking about what you should do with your makeup to give it that Kawaii edge. Well, you're lucky because I have 9 Kawaii Makeup tips to get you started.
1. Prepare your face for Make-Up: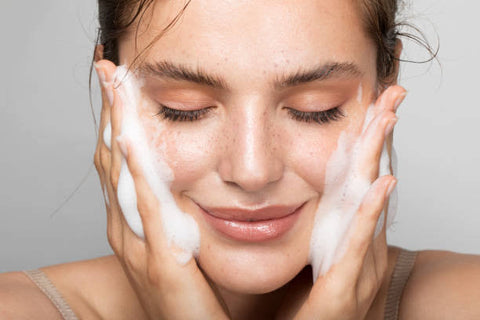 First of all, make sure your face is clean, and then prepare your skin with a primer which will help with a smoother look. Not only will your face look smooth and healthy. It will also let your makeup last for the whole day. That way you can look Kawaii all day long.
2. Using Foundation and Concealer: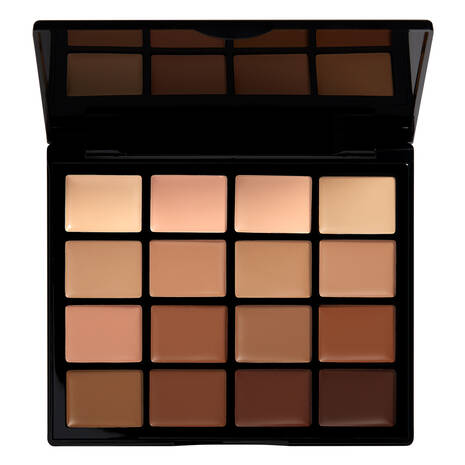 Once your face is ready for makeup, the next step is to apply foundation and concealer. This is an easy step for those who are beginners and for those who have experience. Gently blend it in with a brush or beauty blender. If you have any visible dark circles or pimples, concealer will easily cover that up. So that you can look lively and Kawaii.
3. It's all about the big Kawaii eyes: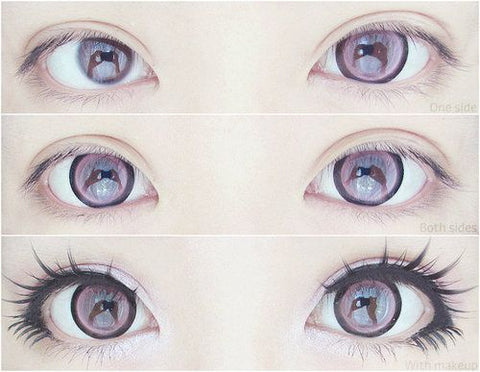 I'm sure you've noticed that the most popular style would be their prominent eyes, strongly inspired by anime character eyes. It would be a simple light makeup with exaggerated big eyes. If you would like to create a wider set of eyes, wearing circle lenses should help with that. It's your choice! Whatever you're happy with.
4. What eyeshadow to use?: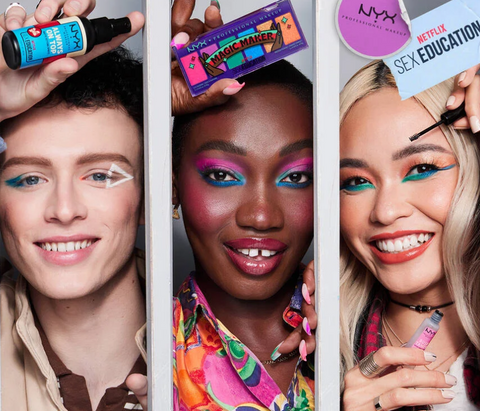 As you may have noticed, using dark colors is not allowed because it's not a part of the colorful and cute aesthetic. It could ruin your cute and innocent face. So depending on your style, use brighter colors or pastel colors instead. Depending on your style, be it Decora or Fairy Kei or Lolita, etc. NYX cosmetics always has a wide range of colorful makeup. Anything you need, from eyeliner to eyeshadow, etc. This cosmetic brand is my go-to store for any cute and colorful cosmetics.
Here are the popular colors used:
Pink
Blue
Yellow
Purple
Green
5. Types of eyeliner styles and eyelashes: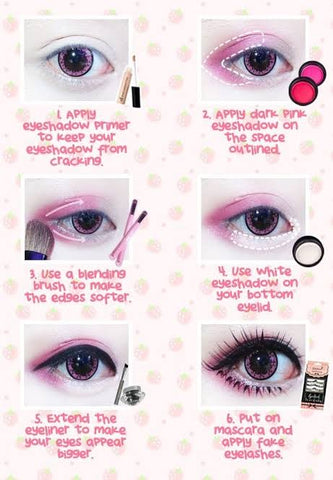 When it comes to Kawaii makeup, eyeliner is an important part. So the most common eyeliner color would be black, then add a little wing whether it's dropping or going up for that cat-eye effect. This will create that big anime eye look. That will create a Kawaii and innocent effect.
You could add some white eyeliner on your lower waterline to create the illusion of wider eyes. Some people use black eyeliner to draw on fake eyelashes, the results are amazing.
6. Don't forget to apply Blush:
Most Kawaii girls apply blush under the eyes and along the front of their cheeks near the sides of their noses. This will create the illusion of how anime characters blush. I myself like to use this style of blush all the time. It creates such a cute and shy effect!
7. Kawaii lips: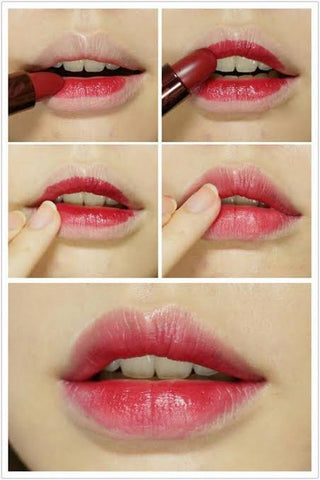 I'm sure you've noticed a pattern, using lighter or brighter colors is important. It all depends on your style, be it fairy Kei or Decora etc. The best color to use is pink, can't go wrong with the color pink. What I like to do is, apply red lipstick on the inner part of my lips then blend it in with my finger or lips and apply some lip gloss. This will give that cute k-beauty gradient lips.
8. It's all about that Glitter and Highlighter: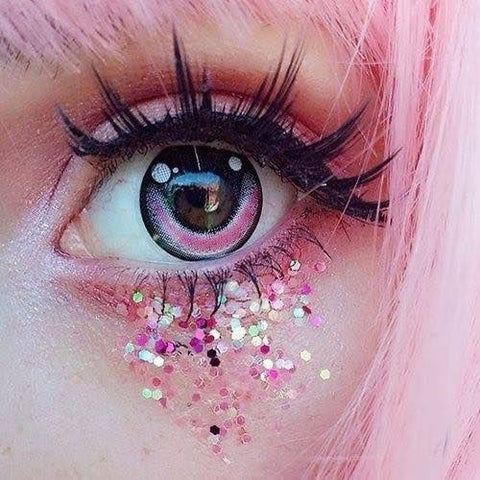 Last but not least, glitter and highlighter. This is the best part. You can never go wrong with some glitter to finish your kawaii look. Apply some highlights on the tip of your nose, upper lip, and upper cheekbones. Plus you could apply some highlighter to the inner corners of your eyes.
As for glitter, what I like to do is apply flitter next to the outer corners of my eyes. It will give that extra Kawaii fairy look. The glitter can be any color you want. To make sure that the glitter is visible enough in photos, I like to apply a bit of Vaseline to the area that the glitter will be on. Then once the Vaseline is on, you can apply the glitter right on top. You'll immediately notice a big difference.
9. Extra Decoration:
Extra decoration! You can skip this part if you want. But you'll be missing out on a chance to be extra creative with your makeup. What many kawaii girls like to do is add stickers or face art. In other words, they'll use their makeup to draw cute objects on their faces. For example, the most popular and easy look is to draw hearts on your cheeks. Another great idea would be to draw clouds and stars on your face. It can be any cute object that you want.
As for stickers, you could easily find these at stationery stores or art stores. The goal is to find stickers that will work with your aesthetic. But any cute or colorful sticker should work. Teddy bears, hearts, and rainbow stickers would be the best choice. You could buy stickers that match your outfit. Just have fun with it!
Ta-da! You've turned yourself into a Kawaii girl. I know you'll enjoy every moment of it. That's the fun part about Harajuku Kawaii Fashion, there are no right or wrong ideas. So feel free to experiment with your taste in makeup. Find something for yourself that you'll really enjoy. The bolder the approach the better.
The most important part is that you're happy and love being your colorful self. Kawaii fashion truly allows you to fully express yourself. That's why I love it so much.
Written by Jessica Norman
Instagram: rainb0w.sweety
Reference:
https://kawaiivibe.com/blogs/kawaii/10-kawaii-makeup-tips
https://www.nyxcosmetics.com/eye/eyeshadow/pigments/NYX_349.html?dwvar_NYX__349_color=Nightingale
https://www.nyxcosmetics.com/eye/eyeshadow-palettes/metal-play-pigment-palette/NYX_957.html?dwvar_NYX__957_color=foil-play